Anyone else think there's something uniquely Christmassy about heritage railways? Maybe it's just the fact our annual sausage safari to Bridgenorth on the Severn Valley Railway's become a bit of a family tradition in recent years, but you can't chuffing beat a bit of chuffing in the cold weather. And seeing as we lost the ability to feel our toes a good few weeks ago, what better time than to check out one of the latest expansions for Train Sim World, as we head for a wintery ride on the West Somerset Railway.
Unlike the routes bundled in the base game (you can find our full review of that here), the West Somerset Railway expansion caught our eye from the moment it was announced, as it was based on a railway we'd actually been on. At Christmas, no less. Holding the title of the longest heritage railway in England, it's a line that runs along a pretty substantial chunk of Somerset coast, taking just over an hour and 20 minutes to chug from the tiny village of Bishops Lydeard at one end, to the bustling seaside town of Minehead at the other. Or a lot longer, if you're anywhere near as bad at driving trains as we are...
Through endless countryside, quaint fishing villages, and even a stretch by the seaside itself, the line's been recreated its entirety in game, and although the lineside buildings aren't 100% accurate (and we do wish they were), the stations, and the major landmarks are all as near as damn it. It's a weird feeling pulling into Minehead and hopping off the train to see the cafe you bought a bacon and sausage sandwich from (and very nice it was too), or walking past the gift shop at Bishops Lydeard, and recognising it. Even the stations that sound like they've got made up names are here too - like Stogumber (must be like a cucumber, but really fatty). Maybe it's just us, but it'd be really nice to be able to go inside the waiting rooms, cafes and stations - even if it would mean a heck of a lot more work for the team.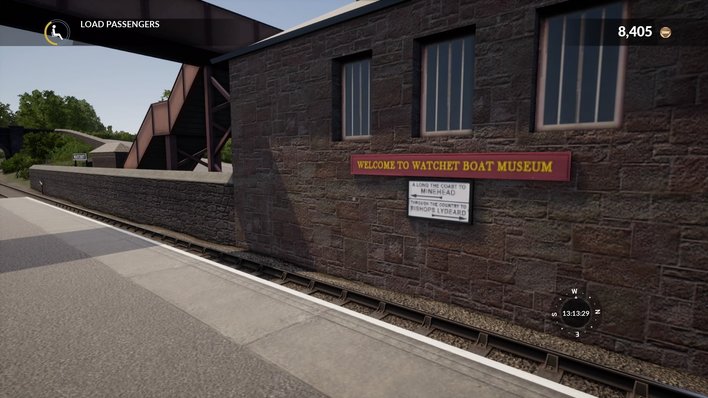 But it's the weather effects that make the West Somerset Railway route something special. While the line may look nice on a summer's day, there's something of a magical feel to it when you're hurtling through the countryside in the driving snow - not to mention how much harder it makes to actually get the train moving. Pulling five carriages worth of passengers is a challenge for some trains at the best of times, yet alone when they can't get traction - and yet alone when you can't see where you're going.
As with most Train Sim World expansions, though, there's more than just the route in here - you get a couple of new trains too: a British Rail Class 47, and a British Rail Class 09.
The Class 47 is the heavy hitter of the two; a stonking great diesel with cabs at either end, and definitely the more well suited to pulling the West Somerset Railway's passenger services. Made between 1962-1968, incredibly, there's still 35 of these trains registered for mainline use today.
The smaller, but arguably more fun of the two is the Class 09, a 0-6-0 shunting/freight train which we've spent most of our time with the game messing around on. Essentially a slightly upgraded form of the train "Devious" Diesel from Thomas the Tank Engine is based on, this may not be the most powerful train, but it has a lot of character - and it's easy enough to drive.
Outside of a pair of new trains to play around with comes the usual range of extras and add-ons - a full timetable for both trains, consisting of a whopping nine services for the Class 09, and a much more reasonable 18 for the Class 47, offering a mix of shunting and passenger services, along with a selection of six more mission-based scenarios, which see you shunting rolling stock with the Class 09, ferrying a trainload of tourists back from Minehead in the Class 47, or even, "due to increased demand", running a full passenger service towed by the Class 09. On a track that has steeper gradients than you might expect, that's one heck of a challenge - the 25 mph speed limit seems more than a little bit hopeful for the majority of the route.
However, as with a lot of the Train Sim World stuff, it's hard to know how much replay value there really is here. Train Sim World, the starter pack, came bundled three different tracks and half a dozen locos for £40ish. This is one track and two trains for £20. And it's that potential lack of lasting appeal that makes us worry, as once you've ploughed through the scenarios and done a few services, is there really that much to keep you coming back? This is where more recent games like Bus Simulator really show Dovetail how it's meant to be done, providing a full on career mode that sees you earning XP depending on how well you drive, not just how many services you do, with extra bonuses for following the rules and giving passengers a smooth ride, along with an ever increasing list of objectives for you to meet. In Train Sim World, however, once you've done it, you've done it, with no real incentive to come back.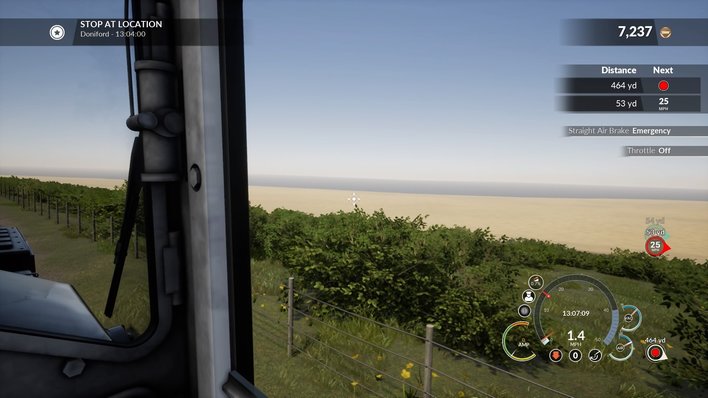 While this is arguably more of a criticism of the base game than the expansion itself, it does seem crazy how Dovetail Games seem to wilfully make things so hard for themselves. Modelling the trains and tracks is the tough bit - making an auto-generated career mode that gives you reason to keep coming back should be a lot less work, and yet one that would add a heck of a lot more value to the game. As an example, the team have gone to all the effort of creating a working turntable at Minehead (!!!), yet there's only a scenario or two that really use it. It just seems mad, when that's such a cool novelty, you'd expect they'd be cramming it into as many scenarios and services as possible. We know we would.
There's also the usual range of bugs and glitches that Train Sim World veterans will already know all about - sounds that randomly cut out, then come back in at full volume; odd graphical effects that make it look like the train's occasionally travelling at warp speed; and, perhaps most disappointingly, some really low resolution tourist posters at Minehead station. These vintage posters always add a really nice retro feel to the heritage lines, but when they look like they've been painted with a potato, it drags the whole thing down.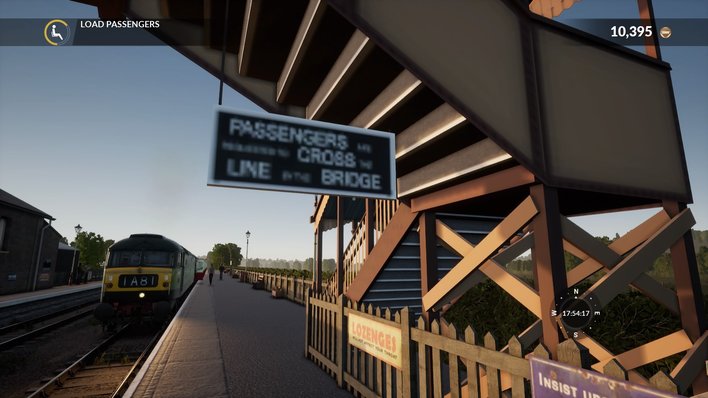 In all, though, if you're a railway fan in the UK, you happen to like UK heritage railways, or you've ever been on the West Somerset Railway, this expansion is a bit of a no-brainer - it's worth it just for the novelty value of chugging up and down a track you'll actually recognise (even if we do wish it came with a steam train). However, we still can't help but shake the feeling that with just a few small tweaks to the base game, Dovetail could end up selling a lot more tracks if they gave everyone a reason to keep playing.
Format Reviewed: Playstation 4