If there's one thing you can say about pool games, they aren't half a great equaliser. If you're anything like us, though you may spend the entire day failing to pocket a single ball on the table in real life, as soon as you pick up the virtual cue, you'll be pulling off trick shots like there's no tomorrow. That was certainly the case with Pure Pool - one of the early guard of PS4 games, and a game we still play to this day - and now Birmingham based studio VooFoo are lining everything up for the perfect shot with a spiritual successor of shorts, in the shape of This Is Pool.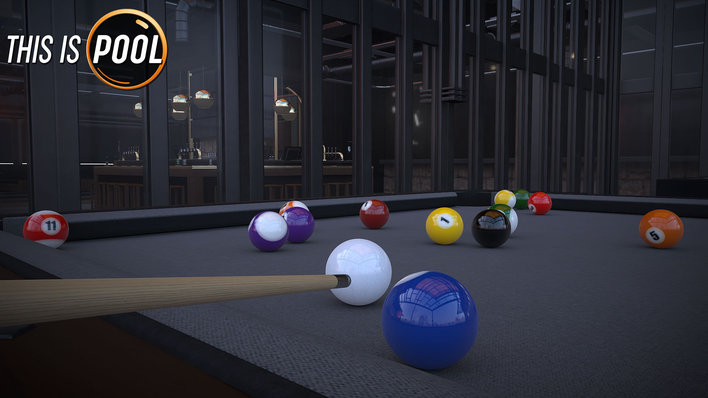 Promising realistic physics, exotic venues, and shiny balls galore, the ambitious pool sim will (according to the press release) include every major rule set played around the world (which can all be customised too), a practice mode, fun mini games, a career mode, arcade trick shots and scenario challenges - and of course, both local and online multiplayer options too. Personally, we're most interested in how the mini games and trick shot mode will play out, letting us channel our inner John Virgo as a nice counter to your bog-standard pool game, while the addition of both local and online multiplayer is much appreciated, especially after how long we've poured into Pure Pool. With an updated and revamped physics engine, improved graphics and 'hyper-realistic gameplay', This Is Pool looks set to be the perfect thing to dip into for a few light-hearted rounds with friends.
Mark Williams, Technology Director at VooFoo Studios, said:
"This Is Pool represents the culmination of all our years' experience making market-leading cue sports simulations and will offer a much enhanced experience to anything we've created before.  We've rewritten the rule-book to create the most realistic, technically advanced cue sports game ever made that is going to take the genre to the next level."
If you're planning on going to EGX later this week at Birmingham's NEC, you might want to hit up the VooFoo Studios booth in the Rezzed Zone and say hi, as the team will have This Is Pool on hand to demo, months before it's due to hit consoles. Otherwise, stay tuned for more details, as This Is Pool will be hitting the Playstation 4, Xbox One, Nintendo Switch and PC (via Steam) in early 2019.