If you're anything like us, the closest you come to fishing is a trip up to the local chip shop for some good old battered cod - quite what it takes for it to go from happily swimming in the sea to swimming in a deep fat fryer, we're less sure. One of the most dangerous professions out there, the humble fisherman is often overlooked as you tuck into your traditional Friday night supper, and, unless you're the kind of hobbyist who enjoys a quiet afternoon waiting for a bite down by the lake, quite how you go about getting the fish onto dry land can be a bit of a mystery. About all we know is there's a big stick involved and a few worms. So, to help demystify the mystical art of fishing, we've reeled in one of our friends from Dovetail Games, Producer Des O'Conner, to talk about their latest game, Fishing Sim World.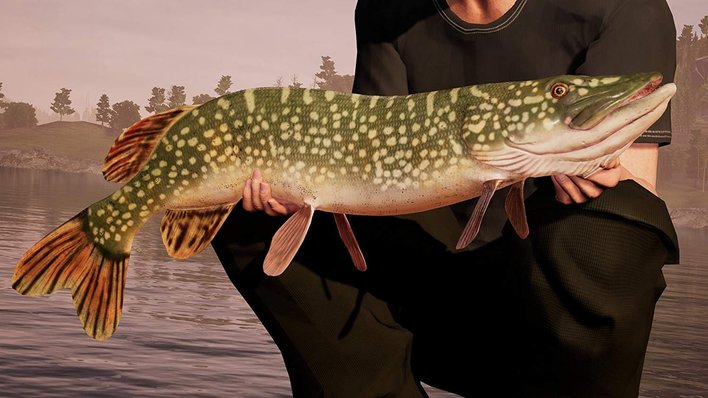 For those who're new to the series, how would you sell them on Fishing Sim World?
Multiple styles of fishing. From static baits where you can cast out 3 rods and set them up with bite alarms, the suspense of float fishing where you need to focus on the float and wait for the right time to strike, to the constant action of lure fishing for predators. Choose between leisurely fishing at your own pace or competitive action against the clock and opponents around the world. The boats are great fun to drive as well, especially in multiplayer.
What makes Fishing Sim World fun, and what keeps you coming back for more?
Records to beat, tournaments to win, trophy fish to catch, achievements to earn, equipment to upgrade, and the Dovetail Fishing League that gives you 4 new events to enter every week. Players will be competing for glory in individual events, which added together over the monthly seasons will give us a Champion of each of the four series (Big Bass Tour, Predator Challenge, Carp Championship, Match Series), with the person performing the best across all 4 series being crowned our Dovetail Fishing League 'Angler of the Month'. Performance across multiple seasons is also calculated in the form of Total Career Earnings.
Even those who've never necessarily played a fishing simulation before will have played things like SEGA Bass Fishing, or gone fishing on Zelda. How does the actual fishing differ in Fishing Sim World, and how accessible is it for new players?
Fishing Sim World is the most authentic fishing experience [we've] made, but it's also very accessible. The UI gives you a lot of information on how equipment performs and there are tutorial videos to help you which are available from the pause menu. The different styles of fishing can be more or less hands on, depending on what sort of experience you are looking for.
How many locations are there in Fishing Sim World?
Seven locations. Three of these are recreations of real world venues. Manor Farm and Grand Union Canal in England, and the carp mecca that is Gigantica in France. [We also have] two fictional venues on the European side of the game - the Waldsee in Germany and Bergsee in Austria. Finally, we have two huge US lakes, Lake Boulder which is based in up state New York, and Lake Johnson which is in Florida.
Which is your favourite location, and why?
Lake Boulder. It's massive, looks beautiful and you get to drive your boat at 70mph. Plus, it has big bass and huge northern pike in its waters. Sunset is my favourite time of day for fishing there.
How do you go about recreating the locations in the game?
We visit licensed locations or use a venue/area as inspiration for [the] fictional lakes. Either way, we take thousands of photos, and lots of videos and audio recordings. The art team then set about creating the environments in stunning detail. We also speak to local fishermen to learn about what it's actually like to fish these venues.
What are the boss fishes?
These are named fish that live in our European lakes - European anglers tend to name the fish that people want to catch! In venues like Gigantica in France this could be Fudgies, the 86lb monster carp. On our Grand Union Canal this could be Jolly Roger, one of our huge pikes. You need to catch them all to complete the set!
Do you have any tips for how to catch a boss?
Work the lake, keep moving about trying new spots and watch the water. Do not sit and wait for them to come to you.
How does the dynamic weather affect fishing?
Conditions play a big part when fishing in the real world, and it is also the same in our game. Depending on the light levels, different colours of bait can become more or less effective. On a clear, bright day you might want to use a lure that is shiny, or metallic. Something that is going to reflect the sunlight and flash as it is pulled through the water. If it's overcast or raining, brighter colours will be more effective.
Tell us a bit more about the multiplayer?
On Xbox and PS4 we have 4 player multiplayer, [and] on Steam, 8 players. You can choose to either play for an unlimited time, or you can set a time limit and see who catches the largest weight of fish before the timer runs out. You can also use text or voice chat depending on what platform you are playing on. Multiplayer is great fun and you can either compete against your friends or work together to try to unlock the secrets of the lakes!
What's your biggest catch so far?
Chunky is a huge 74lb Mirror Carp that lives in Gigantica. He is the biggest one I've caught without cheating. I still need to hook Fudgies, who is the biggest fish in the game - he's another monster, a mirror carp that weighs in at 86lb 5oz.
So get your poles ready, because Fishing Sim World will be coming to the PC, Playstation 4 and Xbox One very soon, on the 18th September, priced at a budget-friendly £29.99! In the meantime, why not check out the trailer below: